All products are added to your cart.
T-Shirt Offenders ''SPREAD LOVE"
0 reviews
0 reviews
Gajes T-Shirt Offenders ''SPREAD LOVE" Regular Fit
Delivery time
Ask for the Option

0 reviews
NEW PRODUCTS ARE ON THE WAY
FULFILL YOUR DREAMS
FOLLOW YOUR OWN PLAN
T-Shirt Offenders ''SPREAD LOVE"
Beside that these GAJES T-shirts are comfortable to wear, these "Offenders" shirts are also a message bringer. The T-shirts are printed and present the streetcoulture how it is intended. The famous riots in Amsterdam have been used to display our message: "Stand for something, or fall for anything" Instead of throwing stones we try to spread love; the love of your passion, whatever that passion may be! Only dignified people with a love for their ideals and passion understand the truth of the streets, and are seen as a true OFFENDER.
(buy 1 size up for a bit more oversized fit.)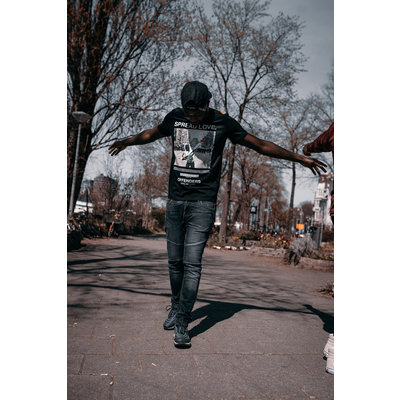 0

stars based on

0

reviews
0

stars based on

0

reviews
Related products
OFFENDERS GEAR ARMY
has been added to your shopping cart
Gajes Fanny Pack XL 'Offenders' Army
PASSION OLIVE/BLACK SHIRT
has been added to your shopping cart
Gajes T-Shirt Passion Olive/Black Regular Fit
Others also bought
OWN PLAN BURGUNDY
has been added to your shopping cart
Gajes Hoodie "Own Plan" Burgundy Patch Regular Fit
PASSION WHITE/BLACK SHIRT
has been added to your shopping cart
Gajes T-Shirt Passion White/Black Regular Fit
PASSION NAVY/WHITE SHIRT
has been added to your shopping cart
Gajes T-Shirt Passion Navy/White Regular Fit
OWN PLAN SUNSET
has been added to your shopping cart
Gajes Hoodie ''Own Plan'' Sunset Patch Regular Fit
PASSION BLACK/WHITE SHIRT
has been added to your shopping cart
Gajes T-Shirt Passion Black/White Regular Fit
SPREAD LOVE HOODIE
has been added to your shopping cart
Gajes Hoodie Offenders ''SPREAD LOVE" Regular Fit