All products are added to your cart.
T-Shirt Passion Navy/White
0 reviews
0 reviews
Gajes T-Shirt Passion Navy/White Regular Fit

0 reviews
DUE TO DELIVERY PROBLEMS, DELIVERY TIMES ARE STRETCHED TO 1 WEEK
FULFILL YOUR DREAMS
FOLLOW YOUR OWN PLAN
T-Shirt Passion Navy/White
These GAJES shirts are made of organic cotton and are therefore lovely to wear. Although we like to challenge the authorities, we of course respect nature! With a luxury high density print, the GAJES logo is exposed and this gives a 3D effect so people can see what you stand for. You never have enough shirts in the closet so choose your color.
Note: Organic cotton may shrink slightly after the first wash.
*CURRENTLY SOLD-OUT SEND US A MESSAGE AT [email protected] FOR NEW DELIVERYS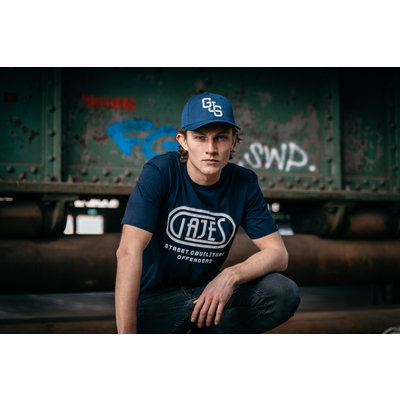 0

stars based on

0

reviews
0

stars based on

0

reviews
Related products
CATCHER NAVY/WHITE
has been added to your shopping cart
Gajes GJS Baseball Cap Catcher Navy/White
PASSION BLACK/WHITE SHIRT
has been added to your shopping cart
Gajes T-Shirt Passion Black/White Regular Fit
PASSION WHITE/BLACK SHIRT
has been added to your shopping cart
Gajes T-Shirt Passion White/Black Regular Fit
Others also bought
SPREAD LOVE SHIRT
has been added to your shopping cart
Gajes T-Shirt Offenders ''SPREAD LOVE" Regular Fit
PASSION OLIVE HOODIE
has been added to your shopping cart
Gajes Hoodie Passion Olive Regular Fit
OWN PLAN SUNSET
has been added to your shopping cart
Gajes Hoodie ''Own Plan'' Sunset Patch Regular Fit
OWN PLAN BURGUNDY
has been added to your shopping cart
Gajes Hoodie "Own Plan" Burgundy Patch Regular Fit
PASSION OLIVE/BLACK SHIRT
has been added to your shopping cart
Gajes T-Shirt Passion Olive/Black Regular Fit
SPREAD LOVE HOODIE
has been added to your shopping cart
Gajes Hoodie Offenders ''SPREAD LOVE" Regular Fit